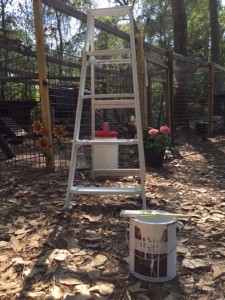 Riding down the back road to the house this past week, I came upon a ladder in someone's trash. I drove on past saying to myself, "NO!" "You're not bringing one more thing home to do!" But by the time I got to the turn, the car had turned and turned back to get the ladder sticking upwards towards the sky.
It was an old wooden, beat up ladder but I already knew what I had in mind because I had seen an old "repurposed" ladder some weeks ago and wanted to try to recreate one for myself.
The thing about repurposing is that you really have to want to do it. You have to talk yourself into getting the old thing, picking it up, shlepping it home, scraping or painting or redoing it and all that goes with it.  Our lives are somewhat like that too.
Many times we lament over things we've done in the past or concern ourselves about the spilt milk in our lives.   Everybody has spilt milk!   There is nothing to do about it but to repurpose.  God knows our heart.  He knows we're sinners.  He's fully aware of our intent so why should we fret, worry or feel bad about things we cannot change.  Ask God to forgive and maybe the person we've offended and then repurpose. Move on. Move forward.  Get out the paint, add something new and create the wonderful future you were meant to have.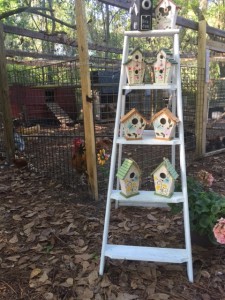 "I can do all things through Christ that strengthens me".
Josie