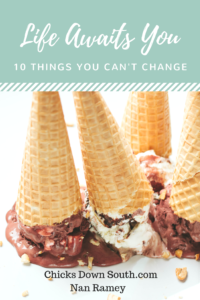 Write 31 Days- Day 8
Life Awaits You
Are not two sparrows sold for a farthing? and one of them shall not fall on the ground without your Father.  But the very hairs of your head are all numbered. Fear ye not therefore, ye are of more value than many sparrows.  Matthew 10:29-31
This is your life. We've shared together two things that we cannot change about ourselves: 1. Our time in history and 2. Our parents.
God has put us here on this earth "for such a time as this" and we were born of two particular people. These people gave us unique characteristics to be used in our day-to-day lives. We are to genuinely make a difference.
God is our life-giver. He created us for His pleasure and we should be doing His work, will and way each and every day we live. Life awaits us. He's given us a platform from which to live out our purpose.
From the time of our birth and with the parents we have/had, we were born into a family and as a result have certain traits from their make up. There was nothing that we did to be born at this time in history and we had no choice to whom we were born. And, it important to note that many characteristics of our parents which have passed on to us have given each of us specific opportuities in our lives. We are each unique and as a result, as we move forward we should seize each moment. It is our job and should be our mandate to do and be what we should be. What is it in you that drives you? What gifts do you have? What talents are yours? What natural abilities have been given to you? They have been given to you for this time in history for a purpose.  The traits and characteristics that you have are truly unique unto you.   What can you do for the betterment of not only yourself but those around you?
According as he hath chosen us in him before the foundation of the world, that we should be holy and without blame before him in love: Ephesians 1:4
It is clear that we each have a specific reason and purpose and so life awaits us and each of us should live life with gusto. Abraham Lincoln said "And in the end it's not the years in your life that count. It's the life in your years."
The founder of Apple Computer once spoke at a graduation commencement:
Your time is limited, so don't waste it living someone else's life. Don't be trapped by dogma – which is living with the results of other people's thinking. Don't let the noise of other's opinions drown out your own inner voice. And most important, have the courage to follow your heart and intuition. They somehow already know what you truly want to become. Everything else is secondary. – Steve Jobs-
It was C. S. Lewis who said: You are never too old to set another goal or to dream a new dream.

The old Japanese proverb proclaimed : Fall seven times, stand up eight.
A founding father of America, Thomas Jefferson said: "Never put off until tomorrow what you can do today.
"
Go with gusto everyone! Forward On