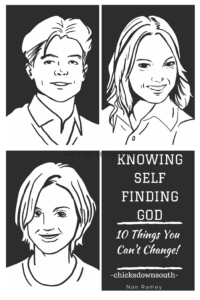 Write 31 Days- Day 7
"For thou hast possessed my reins: thou hast covered me in my mother's womb.  I will praise thee; for I am fearfully and wonderfully made: marvelous are thy works; and that my soul knoweth right well." Psalms 139: 13-14
On day 5, I wrote about Knowing God- Knowing Self. Today we will consider Knowing Self- Finding God.  I want to help you discover yourself and the importance of knowing who you are.If you can grasp that God, the Creator gifted you, specifically you for a purpose, nothing will stop you from success. For it will be in Him that you find your strength, power and reason for being.   Yes, simply knowing who you are can and will make the difference.   Your time in history has been established and now there are specific things about you that make you-you!
God created you with certain attributes. Only you have a specific finger print, eye frame, height combined with a myriad of other traits. Only you. You are a one-of-a-kind person. Sometimes it may appear as if you're "just like someone else" but indeed that is not so. You have your own thoughts, emotions, experiences, and traits. Your personality is your own. You have certain parents, your nationality is by God's design. You have a specific skin color, eye color, and learning capacity. You are you, plain and simple- you. But, by being you, it is very important that you know yourself and who you are so that you can make the right choices in life. Certainly, choices should make by you which enhance the "you" who you are.
Many times in life, people do things to please others thereby getting away from their own style and purpose. These who do this live like a "fish out of water" so-to-speak because they are really living in a world that is not what they want. So, it is very, very important that you understand all about yourself and do what is yours to do.
"But now, O Lord, thou art our father; we are the clay, and thou our potter; and we all are the work of thy hand." Isaiah 64:8
Stephen Covey wrote the best selling book, "7 Habits of Highly Effective People". The 5th habit is to "seek first to understand, then to be understood". That, my friend is a great habit for a person to live by. If you can understand first how God made you, act on those traits, gifts, abilities and characteristics and then help others understand them, you've will have done a great thing for your current status and your future coming.
When I read the stats of Dana Rettke, a Senior at Riverside Brookfield Township High School in Chicago,Illinois, it appears that she knows who she is. According to reports, she had opportunity to play basketball, and her height was one factor that gave her notice in this sport. But she has accepted a scholarship from a Wisconsin University because she feels best suited for it. The scholarship will not be in basketball although she's 6' 8 inches tall. Her scholarship will be accepted the area of volleyball.
She has won many awards include the MVP in 2014 and 2015 , and 2015 area Female Athlete of the Year. According to reports from Madison.com, Ken Uhlir, director of Triple Ace Volleyball Club indicated that while she does well in basketball, volleyball seems to be her "passion".
Anonymous wrote on December 20, 2013 on an online blog, "Because it comes down to a simple problem: MONEY. If what you love to do cannot keep you alive and pay your rent, it's doomed to be temporary. " However, I say that if you do what you love, you will indeed be able to pay the bills and it will be all about life-long excitement, growth and success.
Jeffrey Marsh wrote the ebook, "How to Be You: Stop trying to be someone else and start living your life". He could not be more true in the very title of his book! Each one of us must be ourselves in order for success to be ours!
I will praise thee; for I am fearfully and wonderfully made: marvellous are thy works; and that my soul knoweth right well. Psalm 139:14