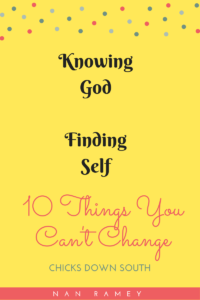 I am the way the truth and the life. John 14:6
Marilyn Adamson was an atheist who after "many months" of wondering about God met a person who was "caring, kind and very intelligent" This person believed in God and encouraged her to do the same but she just couldn't. Months went by as she spent time with the Bible believing person but within herself she was skeptical. This bothered her until she came to a place that she realized she had to make some decision. One night she just asked God to come into her life and " do with it whatever you'd life". This was the beginning to a life of seeking God, understanding Him and knowing Him. She began to feel His presence and although her "basic skeptical nature was still there", she began to find further evidence of Him, found direction for decisions, and to value His purpose for her life.
Knowing God is to find self. The Bible speaks of God creating the earth and all that is in it for His purpose. This applies to mankind. God has place each person at a certain time in history for His purpose.
In the beginning God created the heavens and the earth. He made man in order to spend time with him. We all have a desire to know God. Each of us yearn for Him to live in us. It is God's voice that we seek in the still of the night and He is actually there if we will draw nigh Him. God's plan for the ages is that we would not only have a relationship with Him on this earth but that we would have an eternal life. So that man would know His plan, He had Holy men of God to write the Bible, His Holy Word.
Clarence Larkin, author of Rightly Dividing the Truth writes: "The Holy Scriptures are not a systematic treatise on theology, history, science or any other topic. They are a REVELATION from God of His plan and purpose in the ages as to the earth and the human race. They were given to us piecemeal "at sundry times and in divers manners". Hebrews 1:1. Holy men of God spake as they were moved by the Holy Spirit during a period of 1600 years extending from B.C. 1492 to A.D. 10. The Bible consists of 66 separate books; 39 in the Old Testament, and 27 in the New. These books were written by about 40 different authors. By kings, such as David and Solomon; statement, as Daniel and Nehemiah; priests as Ezra; men learned in the wisdom of Egypt as Moses; men learned in Jewish law, as Paul. By a herdsman, Amos; a tax-gatherer, Matthew; fishermen, as Peter, men; a physician, Luke; and such might "seers" as Isaiah, Ezekiel and Zechariah". …While the Bible has been compiled in the manner described, it is not a "heterogeneous jumble" of ancient history, myths, legends, religious speculations and apocalyptic literature. There is a progress of revelation and doctrine in it.
"Study to show thyself approved unto God, a workman that needeth
not to be ashamed rightly diving the Word of truth." 1 Tim. 2:15
So we see that God has a plan for our lives and we can know that plan by reading His Word, the Bible.
To find self, one must know God. He alone can put in a person's heart His desires and cause purpose to come about such that a life can be well lived.
If you didn't read the 1st thing you can't change about yourself. Check it out here.