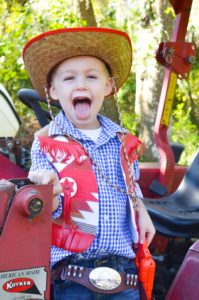 Kids say the darndest things often times surprising parents and others in ear-shot. This is not new but it is certainly new to us! From 1945-1969 radio and television personality, Art Linkletter featured a segment on his show called "Kids Say The Darnedest Things". The program began with Linkletter asking a child, usually between 3 and 8 years old a question and then waiting for a response. Very often the child would awe both Linkletter and the audience prompting possible discussion which would keep the audience intrigued.
Our four year old is no different and we think it's the cutiest thing ever when he surprises us with his wit, humor and just his own personal self. Some off-the-wall things have popped out of his mouth followed by us almost rolling on the floor in laughter. If you're a parent, I'm sure you can relate.
Lately, here are some of the funnies we've heard:
1. With folded hands, in his prayer after the "big ball game". Dear Father, I hit that ball so hard. Jesus name, amen."
2. "Mom, let's chat."
3. "C'mon, man."
4. "Oh my gosh!"
5. "Hoopy Loop."
6. "Mom, Mom, Mom, Mom, Mom, Mom, Mom"
7. "Dad, where's Mom?" "Mom, where's Dad?"
8. "Is that a good idea?"
9. "I can help."
10. "I don't need want to."
11. "My pleasure."
12. "No, no, no, no, no, no, no."
13. Deal?
14. With fists up like a fighter: "You want some of this?"
15. "Chill, homegirl!"
If you have a child I'm sure you have a cute list too. Share with us what your silly kids say to you. We can't wait to see what 2018 brings.

Happy New Year!
Katie Girl
---