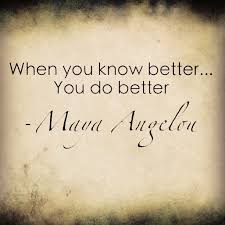 New Year Changes
Most of us have a desire to do better. Day after day we do things less than our best. We struggle with doing what we even expect from ourselves. We promise ourselves to just do better the next time.
As the new year approaches we see opportunity to put the past behind us and begin new. We can begin fresh with a new year and a new vision. We can put in the past things that didn't suit us, the things we did wrong and things that made a negative impact in our lives. We simply desire to do better.
Maya Angelou once said, "If you know better, do better" and so as we approach the new year we should definitely take this time to improve upon our lives and the lives of those whom we impact. Our success is not only for us. Our accomplishments are for those around us as well.
Our best chance at making change is to do some very strategic and purposeful. We should accomplish things that can bring real and positive change and to do that it is truly our faith in God that can bring this to fruition. Here are 5 fool-proof ways to commit to change and see that change make a real difference in our lives.
 Ideas for Real Change
1. Begin every single day with a devotional. It does not need to be long or lengthy or even detailed.  Simple is good. Be sure to include one scripture as  a word for the day.
All scripture [is] given by inspiration of God, and [is] profitable for doctrine, for reproof, for correction, for instruction in righteousness: That the man of God may be perfect, throughly furnished unto all good works."
2. Ask God for wisdom in making choices. The Word of God is fashioned to literally speak to our hearts. God literally speaks to our heart and by that we hear from Him and are able to go forward in His power and strength.
But the wisdom that comes from heaven is first of all pure; then peace-loving, considerate, submissive, full of mercy and good fruit, impartial and sincere. James 3:17
3.  As you go forward during the day ahead, "pray without ceasing" as you seek God's will in your life. One important prayer for us all is the Lord's Prayer which in one point says. "as it is in heaven it would be on earth". So ask God that during your day things that would occur in heaven would occur in your life on earth.
"Confess your faults one to another, and pray one for another, that ye may be healed. The effectual fervent prayer of a righteous man availeth much." James 5:16
4. Thank God for His work in your day to day living. Every day will be a new day and every day, thank God for the work He is doing in your life. You will indeed see a difference if you are in His Word and
"Call unto me, and I will answer thee, and shew thee great and mighty things, which thou knowest not. "Jeremiah 3:33
5. Remember: Things will NOT be perfect and mistakes will be made but on a whole, God will bless and make the difference in your day-to-day life. He will be the "I AM" that you need to accomplish any goals you have set forth.
"For that which I do I allow not: for what I would, that do I not; but what I hate, that do I." Romans 7:15